| | |
| --- | --- |
| Posted on March 11, 2010 at 12:50 AM | |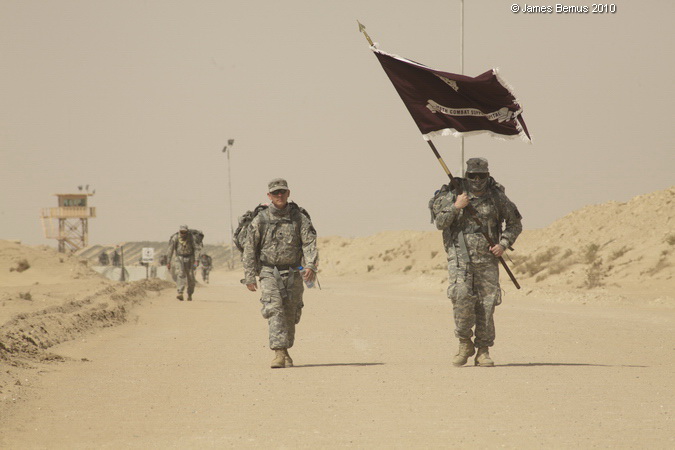 An annual event for US armed forces around the globe, I covered the memorial march at Camp Virginia, Kuwait. Participants started before dawn, but most took over six hours to complete the march in the heat with "full battle rattle".
There were many units represented by carrying their standard for the full 30K.  This flag is for the 325th Combat Support Hospital.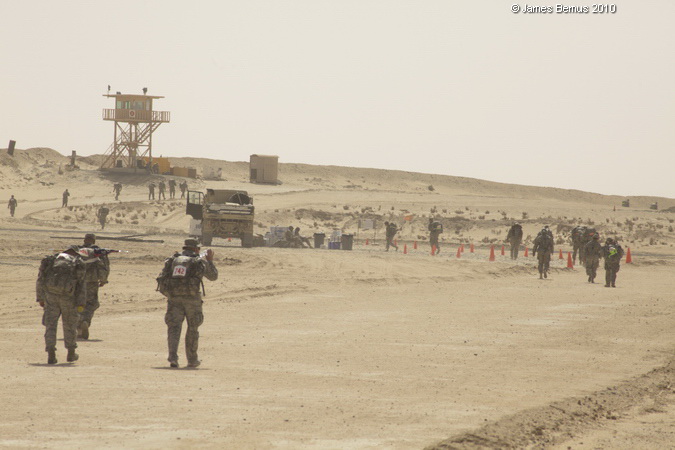 The 30K was accomplished by doing multiple laps around Camp Virginia's perimiter road.  Here it winds its way past a water stop and guard tower. 
This group asked to be photographed while they were waiting at a water station.  The yin yang patches indicate they were deployed to an active war zone (Afghanistan in this case).
Not your average 30K water stop. 
The day was hot, windy, and there was a million tons of dust in the air.  Almost everyone (including me) wore something over their face to help filter the dirt.  This guy's bandana was more decorative than most.
By 2:00 in the afternoon there were a lot of blistered feet.  This soldier was prepared with his own salve and moleskins.
The base is surrounded by a tall berm. At the corners the wind would get through and add to the haze.  You'll notice in all of these pictures the sky is beige.  That's just the color it is from all the dust in the air down at the horizon. 
3:30 and this group had finished.  Even laying down in the gravel was preferable to standing at that point.
Mass quantities of hot dogs, chips, and (non-alcoholic) beverages were waiting at the end. Kuwait is a dry country in more than one way.
Sprawl were you can and find whatever shade was left.  It wasn't that  the soldiers didn't have a facility to relax away from the sun and heat, but...
...those who finished earlier were still snoring away in the comforable rec center.  Those that weren't asleep here were still eating.
4:50 PM.  A few had to start late due to duty shifts.  It was pretty lonely out on the course by this time. 
More foot maintenance at the end of the day. 
5:30. The last group to finish.

Categories: None